Early in 2019 (I appear to have booked the tickets on 24th January) British Airways celebrated its 100th birthday by offering some long-haul tickets for £100 each way, including taxes. You had to be online at mid-day to grab them, and there were only a few destinations available each day. Instead of trying and failing to get to some of the more popular far-flung destinations, Lucy and I managed to grab a couple of seats for a long weekend in Philadelphia later in the year (September).
When the promotion was on, we were still living in Twickenham, well within the range of catching bus number 490 to Heathrow Terminal 5. However, by the time the trip came up, we'd been living in Manchester for four months, so we had to book a couple of flights to connect us to the Philly flights. As these would be on separate bookings, we also had to make sure that there was enough buffer such that disruption on the flight from Manchester wouldn't cause us to miss the flight to the US.
I've already reviewed our stay at the Hilton Garden Inn at Terminal 2, and our hotel stay in Philadelphia, so I'll concentrate here on the flights between Heathrow and Philadelphia.
For £100 each way transatlantic, the seats were naturally in economy. Almost all of my flying is done in the back of the bus, so this wasn't a problem. We were scheduled for a 747, and as I could select seats for free, I'd opted for two seats towards the back of the plane where the configuration changes from 3-4-3 to 2-4-2. It does mean being some of the last to be served, and the last to get off, but on the other hand it is just the two of us, without someone else either in the aisle or window seat.
The days of amenity packs with earplugs, an eyemask, a pen and over-the-ear headphones are long gone. These days what you get is a plastic wrapper with a set of earphones and a Flying Start envelope.
However, it was a refurbished plane with a fairly large in-flight entertainment screen. As a minor niggle with BA's moving map on the new IFE, I'd prefer the image of the plane itself to be smaller so I can see more of the ground beneath it, especially when zooming in (this was better with the old moving map), but that's not much of a complaint. During the flight I could (and did) easily watch Rocketman on the screen.
As economy meals go, I couldn't really complain about this. Quinoa salad, chicken curry and rice, a dessert, bread roll, crackers and cheese, and a can of Brewdog's 'Speedbird 100' IPA. Sitting down the back of the back of the plane there is a risk that you can't get your first choice of meal, but you do have the option to pre-book on the outbound flight from Heathrow, and I had no such problem here.
One thing British Airways still haven't quite got the hang of is couples where one person has a special meal booked (Lacto-Ovo Vegetarian — or VLML — in Lucy's case). The special meals are all brought out at the start of service, and her food had been served a good 20 minutes before the trolley reaches me with mine. Perhaps one reason to pre-order a meal, which at least might work for the outbound flight.
There's not much else to report about the flight. There was the half-way mini Magnum that BA have recently introduced and we made good time to Philadelphia. Immigration wasn't too bad (I have Global Entry, but didn't use it). We were lucky with timing and took the train to downtown Philadelphia.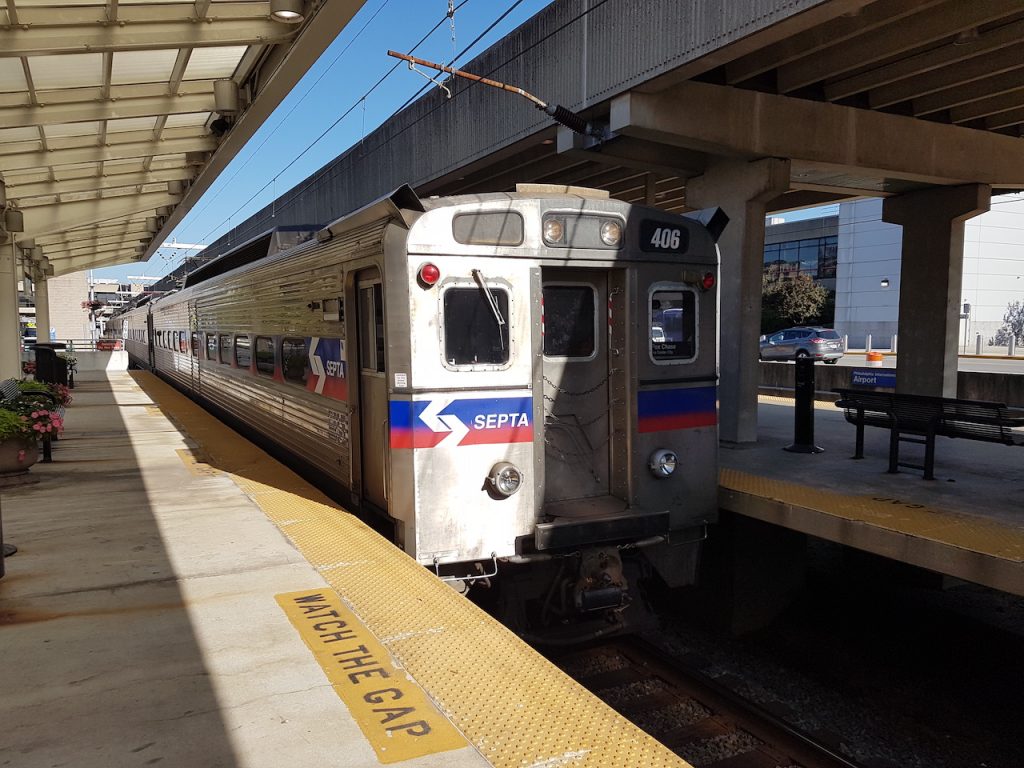 The Return
A couple of days before heading back to London, the usual POUG (Promotional Online UpGrade offer) appeared for an upgrade to Premium Economy (World Traveller Plus in BA parlance). They'd been popping up ever since I made the booking, but not at a very competitive price, but this time it had dropped substantially. As it was an overnight flight and we then had a short layover in Heathrow before finally getting back to Manchester I booked it.
I started getting slightly concerned when I went to select our seats.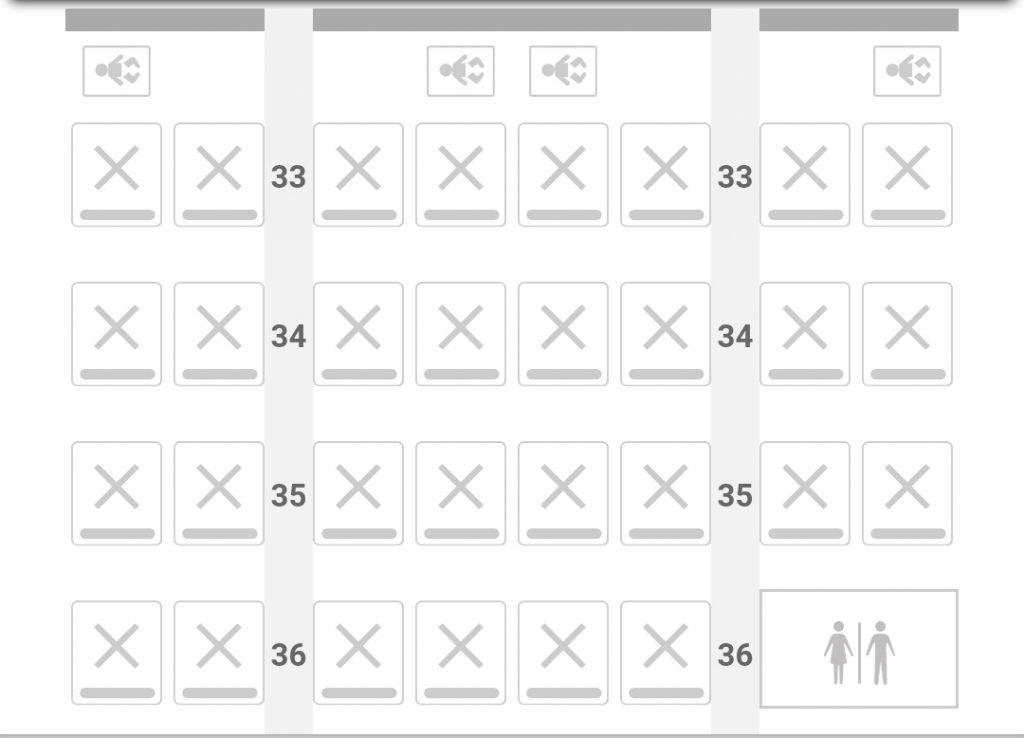 OK, not a whole lot of options there, but something will appear with online check-in, right?
Wrong.
I'm past the days of stressing over this sort of occurrence, and figured that they'd be able to sort it out at the airport. The worst case would be that we'd end up back in economy (actually, the worst case might be that we'd be bumped to a different flight and miss the connection to Manchester, but let's not dwell on that).
We got to the airport, checked in and dropped our bags off, and we are told they still do not have seats for us, but we are issued boarding passes to get us through security, though they have no seat assignment on them.
We made our way to the lounge and helped ourselves to snacks, and perhaps a beverage, whilst I kept on refreshing the app. Some time goes past and eventually 35E and 35F pop up in the app as our seats. OK, middle seats, but bulkhead, I can live with that.
A bit more time passes and an announcement comes over the tannoy asking us to go to the front desk. We get the new boarding passes and is it 35EF? Nope, it's 21F and 21G. Yes, we've scored an upgrade!
I've rarely travelled in BA Club World before this, and Lucy never had, so this was a bit of an experience for us. We had the limited edition #BA100 amenity kits and tucked into a very nice meal.
Breakfast was a bit confused. We'd clearly marked our preferences on the cards they distributed before take-off, but when it came time (after just an hour's sleep), mine was delivered but not Lucy's. When we asked the cabin crew, they said they'd been laughing about it in the galley as it said she were vegetarian, but had asked for the full breakfast.
Firstly, the card most definitely did not say that, I'd looked at it myself, and secondly, the crew saying they'd been mocking a passenger's actions, even if there had been a mistake, is not really what I'd call a premium experience. Breakfast was soon on the way, but this was the one exception to an otherwise excellent experience of being upgraded!
As an aside, this started a run of three consecutive upgrades from World Traveller Plus to Club World for me on BA. After this flight there was Heathrow to New Orleans, and Dallas to Heathrow. I think I've exhausted my upgrade karma for the next decade, but one suggestion BA, can you put a better pen in the amenity kit? On two of the three kits the pen was useless — one the ball had been pushed back into the nib, and the other just didn't click.