[Edit, I've now added another post linking to the web pages I used to do this, and the costs for the memory and drives.]
Sitting in a cubby-hole of my desk has been an old Mac mini that was my daily driver from when I bought it in 2009 until, well, quite a bit of time later — the next computer I bought for myself was a 12″ 2016 MacBook Retina.
This was a time when I was on-call for work, using it at all hours of the day and night, and it has been used intermittently since then, but at one point the 320GB hard drive started to fail and eventually got to the point where it was complaining of S.M.A.R.T. errors and Disk Utility would refuse to reformat it, and not even a reinstallation would be successful.
It remained that way for a while, powered off and out of sight below the desk.
Then, after 11 months of working from home and my wife's laptop starting to show signs of looking the worse for wear, I wondered if I could bring it back into service as an emergency backup (this was at the same time as buying a refurbished Dell gaming desktop for myself — more to come on that later — and running Geekbench on everything I could get my hands on).
I booted it up, having forgotten quite the state it was in, realised the problem and spent a bit of time browsing iFixit and other sites.
I decided that if I was going to open the box up, I was going to do it properly, so I ordered a small (240GB) Kingston 2.5″ SSD, a couple of 4GB PC3-8500s DIMMs (to replace the 2 x 2GB that were in there), and a can of compressed air to clean up the internals. I already had some spare CR2032 batteries to replace the PRAM backup.
Researching after the fact, I wondered if the EFI would cope with 8GB of memory, but I developed a tedious backup plan to downgrade back to 4GB, then upgrade the firmware, then dismantle the box again, put the 8GB back in and re-assemble, desperately hoping it wouldn't be needed.
I also realised that this Mac pre-dated Internet Recovery, which I'd hoped to use to re-install macOS, so I downloaded macOS El Capitan to create a bootable USB stick.
However when I tried to create the stick, it said that the version of macOS wasn't compatible with the computer I was using to create the stick (a 2016 MacBook Pro). A bit searching led me to a workaround of downloading a free copy of VMware Fusion Player to create a macOS 10.13 (High Sierra) VM, and using that as an intermediate step to create the 10.11 bootable installer.
That paragraph probably needs more emphasis. Parallels wouldn't work, but VMware Fusion Player would, so I had macOS 10.13 running inside macOS 10.15 to create a macOS 10.11 boot image. Put together that required a little bit of time.
Fortunately, opening and disassembling this era Mac mini requires no more than a pen-knife to shimmy open the clips, an 00 cross-head screwdriver, and a magnifying glass, all tools I had to hand, and not needing any more expenditure.
During all of this, I was fully aware that I was ploughing money into a box that is over a decade old, and probably close to being out-performed by a Raspberry Pi 4, but it seemed like a bit of fun, and all-told, not that expensive.
I followed the instructions and the mini came apart a lot easier than I expected it to — including the spring-loaded WiFi and Bluetooth antennas.
I was surprised how clean it was inside. I'd been expecting to be ploughing though inches of accumulated dust (having had much experience of University systems and desktop PCs in my past). Nevermind, some judicial application of compressed air to clear the bits that had accumulated (which brought its own anxiety in terms of the temperature of spray and perceived cracking sounds), and I replaced the RAM, HDD and PRAM battery.
The HDD to SDD replacement wasn't quite as straightforward as expected, the relatively heavy HDD dropped out quite easily when unscrewed, but the very light SSD needed a bit of fiddling to get it to slot into place, and only two of the four screws fit easily. However, given the SSD wouldn't be susceptible to the same torque and vibration as a HDD, I didn't worry too much about that and as long as two screws were secure, I just loosely put the others in place and reassembled the mini, but didn't put the lid on (to be frank, the easiest part of the assembly/disassembly).
I put the USB Stick with El Capitan in a spare USB port and powered up.
It's booting!
Hooray! I entered Disk Utility, formatted the new SSD as a single macOS Extended partition, and clicked install.
Bah. So close.
I tried the install a few more times with the same error, so I shut the system down to re-image the USB stick and do a bit more research.
That research suggested it could be due to clock skew (and not being able to verify crypto signatures as a result). Having just replaced the PRAM battery, I can easily believe this, so I boot again and I'm ready with the workaround of setting the system clock. Not an unexpected task in the circumstances.
However, having booted, I open a terminal, type "date" and the clock appears to be right, so I try the install again, and it starts to work!
Don't believe that claim of 10 minutes, it was much closer to an hour, but at least it was working.
Eventually, success! It boots, I can run through the usual setup sequence and it recognises the new memory.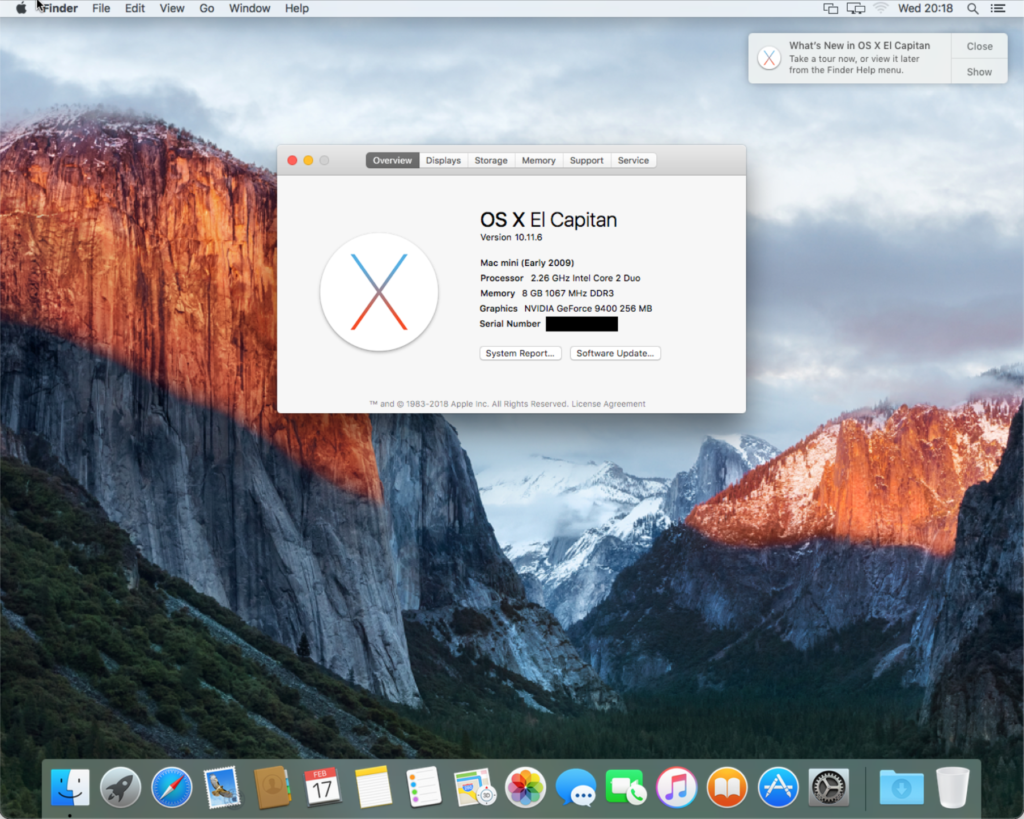 Now, the next step is to see if Citrix works… I'm not sure how I'll get Microsoft's card games on there (my wife's other preferred application) though.
As for performance, GeekBench 5 won't work on macOS 10.11, so it's back to GeekBench 4, which comes up with the following, compared to the dying laptop, my now 5-year-old MacBook and work's MacBook Pro.
So, about half the speed of the laptop it is supposed to replace in an emergency, but better than nothing…