There are two main routes between Manchester and South Wales. There is the "Heart of Wales" line, which is the very scenic route, and the Welsh Marches line, merely quite scenic. A few (ahem) times over the last couple of months my wife and I have taken the train from Manchester towards South Wales, and back again, and this is about the Welsh Marches line, not quite as scenic as the Heart of Wales line, but still an interesting journey.
The route runs through Shrewsbury, Ludlow, Leominster, Hereford, Abergavenny, Newport, Cardiff, Swansea and then through to Milford Haven or Carmarthen. It isn't, however, all that quick — over three hours to Cardiff, over four to Swansea (which might test even Michael Portillo's patience), and it could certainly do with a few upgrades.
Most of the times we have travelled on it, we've booked Advance tickets, which require that you travel on a specific service and usually come with seat reservations. Each time the booking form has asked for seat preferences (table / airline; aisle / window). However, each time we've picked the tickets up, they've been "Coach *, Seat ***". However, I've seen "reserved" tickets in the back of some seats, so there must be some magic we're missing.
Getting on at one of the major stations (e.g. Manchester Piccadilly or Cardiff), you need to be at the right part of the platform to be by the doors when the train arrives, or you're likely to be standing. One time we got lucky and bagged a seat whilst others stood, another time we were standing for 30-40 minutes until the train reached Crewe and a few people got off. I've also seen people standing at Hereford just as the local college finishes (and presumably just before it starts), which makes the lack of definite seat reservations a worry if you really want to sit down, and particularly, sit down together.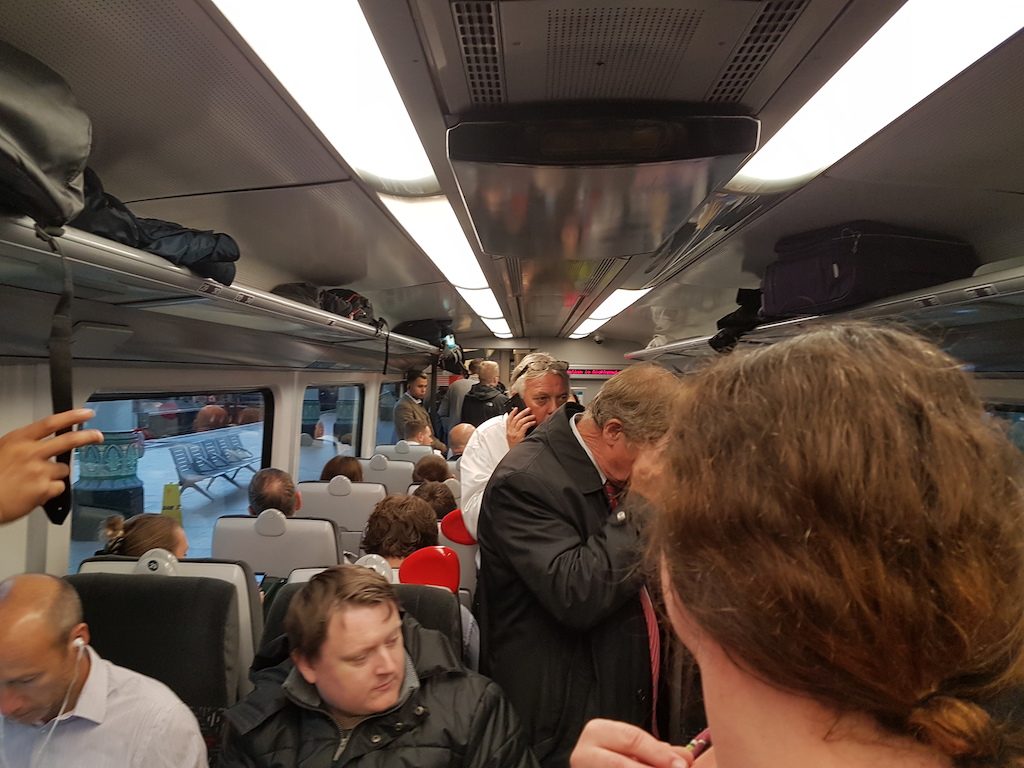 The trains are "Class 175", and it has varied as to whether the trains are two coach (175 0nn) or three (175 1nn). On one journey to Swansea there were people standing for quite a bit of time, and it wasn't helped when we reached Shrewsbury to find another train had been cancelled and they were shuffled onto the train we were on to get down to Newport and change for another service.
I have to feel a bit sorry for these little trains, they run for almost six hours from Milford Haven or Carmarthen up to Manchester, then have about 15 minutes before they're on the way back for another six hours. This does mean they don't get a proper clean for twelve hours other than the Transport for Wales staff doing their best to clear loose items into rubbish bags. Which means, fellow passengers, when you leave the train, please take your rubbish with you, as someone else will almost certainly be sitting in your seat within a few minutes!
At a couple of points through the journey, as long as there's room, a trolley service will pass through the train offering tea, coffee, snacks, beer, wine, gin, tonic, you know the drill. Sometimes they may ask you to pay cash if the machine isn't working — or if the reception is bad.
Speaking of reception, there is free WiFi on the train, but the uplink speed isn't great, and some sites, including Google Drive, are blocked, which might make working on the train a bit of a challenge. If you've got a signal and a generous data plan on your phone, you might be better off tethering to that.
Getting the negatives out of the way, the route itself passes through some historic towns on the borders between Wales and England.
Regardless of history, according to Wikipedia Ludlow apparently once featured three Michelin-starred restaurants in the not too distance past, but now has none. Leominster was the site of "one of" the last ordeals by ducking stool in England. The stool itself is on display in Leominster Priory and depicted on the town clock.
Not forgetting larger towns of Shrewsbury, curiously twinned with the Royal Navy submarine of HMS Talent, which would have some trouble getting anywhere near the town, and Hereford, birthplace of King Charles II's mistress Nell Gwynne (I wonder if my new MP Andrew Gwynne is a descendent?).
Whilst we've been using this route for trips for work or family of late, we'll have to use it to explore some of the historic towns on the route soon, and some of the scenery it passes through is really quite beautiful. Some longer trains, though, please TfW?