Whilst we were still living in South-West London I booked a return for my wife and myself to Philadelphia as part of BA's 100th anniversary sale.  These were tickets that cost £100 each way in economy, including taxes.  Since then we've moved to Manchester, and so to avoid problems with missed connections for the 12:40pm BA67 to Philadelphia, we flew down the evening before and stayed at the relatively new Hilton Garden Inn at Terminal 2.
Why a hotel at Terminal 2 when the Manchester flight arrived into T5 and the Philadelphia flight would leave from the same terminal? Well, predominantly cost.  The Sofitel at T5 was substantially more expensive than the HGI, I didn't want the hassle of buses or taxis from outside the airport, and it's not too difficult to get from T5 to T2.
Previously living close to the airport, I'd never taken the Heathrow Express to travel between terminals, so after pausing to wonder if I needed a free transfer ticket at T5, I decided to pick one up to be on the safe side — just as well, as I'd have had to make my excuses at the T2 ticket barrier without it.
The next step was finding the hotel itself.  T2 is a reasonable walk from the train station along several moving walkways, and then you need to find the right level to get to the hotel.  For reference, you want to walk to the hotel across the car-park, and then a walk-way, from the arrivals level (level 1) of T2.  Whilst you can see it clearly from the departures level, there is no obvious way to get there from across the drop-off zone, as we found out whilst hauling our cases!
There are four check-in desks, and no queues when we arrived.  I was somewhat disconcerted when the young lad said he paused because I looked like his best friend's Dad, but at some point I have to realise I'm getting older.  At least it wasn't his friend's grandfather, and a suggestion that my wife reminded him of his friend's mother might have gone down even worse.
Using the Hilton app on my phone, I'd already booked a room on the 11th floor (out of 13) with a runway view — try and claim you're surprised by that.  The runway-facing rooms look south-west onto 27L/9R, which was on easterly take-offs whilst I was there.  The soundproofing is good, so it allowed a view of the runway without airplane noise being noticeable.
The bed was fairly standard, with a large screen TV and a desk.  The bathroom was spotless, although the waterfall shower was relatively weak, with Crabtree & Evelyn toiletries.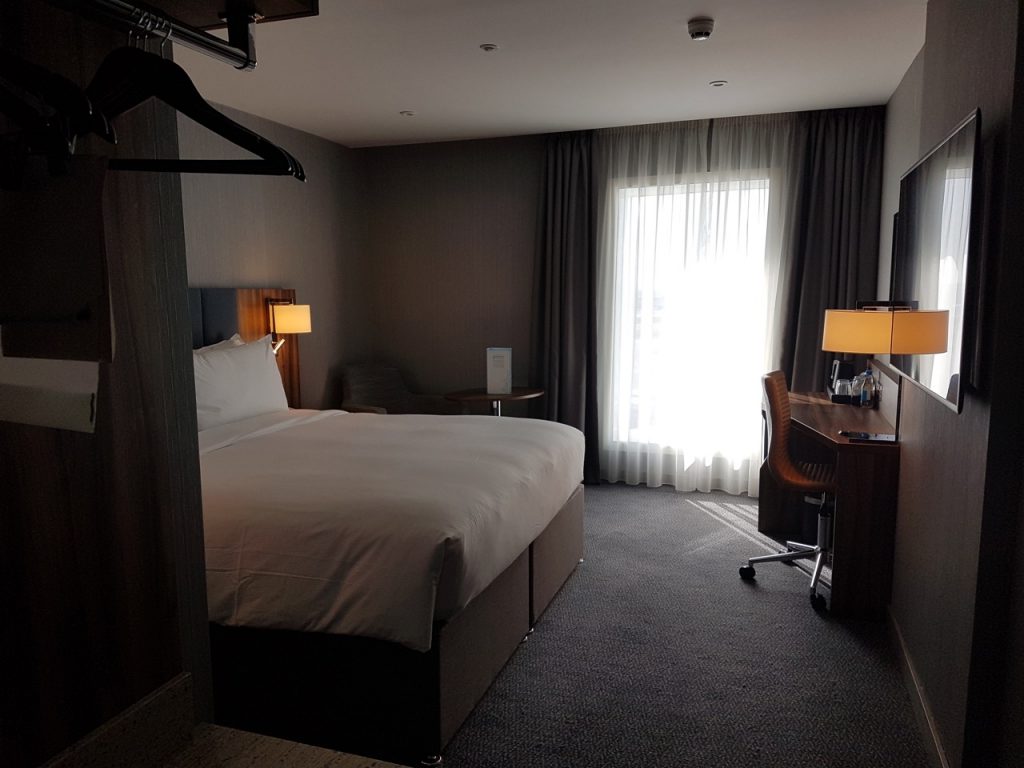 Having some time to kill, we went downstairs to the bar, one floor down from the lobby.  I had a beer, my wife had a white wine, and we shared a (small) bowl of chips ("hot chips" or "fries" for those that use a different variant of English).  This came to £20, so we made our way back to the terminal, and to The Flying Chariot, the Wetherspoons on the departure level of T2 for a couple more drinks.  It's not a bargain compared to other Spoons, but it was cheaper than the Hilton, and had a wider selection of drinks — plus you can still get the drinks delivered to your table using the Wetherspoons app.
It was quite an enjoyable couple of hours people-watching at the airport as passengers arrived to fly off somewhere, some more prepared than others.  There were a few groups obviously heading off to Japan on JAL for the Rugby World Cup.
Instead of eating there, we picked up some sandwiches from the Marks and Spencer on the arrivals level and headed back to the hotel room.
After a sound sleep, blissfully unaware of the planes taking off not far from our eardrums, the following morning check-out was easy enough, again with no queue, and from there it was just the walk to T2, then the walk to the Heathrow Express and onwards to Terminal 5 for the flight to Philly.
This was the first time I'd spent about 24 hours within an airport perimeter, as most other times I've stayed at an airport hotel, I've either been arriving late, departing early, or the hotel itself has been just outside the airport. I'd happily stay in the Hilton Garden Inn T2 again, even if my flights were based in T5.