A Guide to Long Lellang
Last edited on October 17th, 2003
Introduction
The idea for this guide was proposed by David Bennet, a pilot for Malaysian Airlines flying the rural air service "Twin Otter" aircraft to the interior destinations such as Bario and Long Lellang, and owner of a backpacker lodge in Miri, the town from where the destinations in the Kelabit Highlands are served. Having seen the increase of tourism to Bario over recent years, it was felt that it might be worthwhile to encourage visitors to other destinations in the area.
I became involved during a party after I'd been working as a volunteer teacher in Bario for two months. The organisation I'd been volunteering with, Trekforce Expeditions, had also sent teachers to Long Lellang in the past, and so their name was known there. I volunteered to go there and scout out some information to form the first version of this guide in October, 2003. Hopefully it will grow from here as an increase in visitors to the village brings about new information on what there is to see and do.
Much of the initial information was provided to me by Peterus Tuked in Long Lellang. For his hospitality and generosity I am very grateful.
Please let me know if you find this guide useful, if you find errors, if you see scope for improvement, or if you have any additions. I won't be able to visit Long Lellang frequently, so the only chance I have of keeping it up to date is with regular feedback from visitors that have been there.
As a slight aside, if you are in Miri en-route to the Kelabit highlands, or anywhere else for that matter, I can recommend David's lodge as a place to stay. It is in Luak Bay, about 4km south of the town centre, but easily accessible by bus. Beds are RM27 per night in a dorm room sleeping 6, and there is also a room with a twin bed, and another with a double bed. The address is 13, Lot 211, Jalan Pantai, Luak Bay. Telephone (085) 424327. He can also help arrange trips to Bario and other villages in the Kelabit Highlands.
What and where is Long Lellang?
Long Lellang is a small village in the south of the Kelabit Highlands of Sarawak, Malaysian Borneo. The Kelabits are one of the smaller tribes in Malaysia, numbering only about 5000, and based around Bario. More information on the Kelabits is available on The Kelabit Net. Whilst the village is Kelabit, many of the inhabitants are Penan, a semi-nomadic tribe based in the same area. All of the other villages close to Long Lellang are Penan.
The focal point of the village is the primary school, SRK Long Lellang, which has about 110 students enrolled, most of whom nominally board at the school, but many of the Penans spend most of the year working with their family.
There are no telephones in Long Lellang, and electricity is provided by individual generators at each house. Several houses do have satellite TV.
How do I get to and from Long Lellang?
Currently there are only two ways to get into Long Lellang; by plane and by foot. Long Lellang has a small airport which is served by the rural air services of Malaysian airlines with two flights a week, one each on Wednesday morning and Saturday lunchtime. The direct flight from Miri (Saturday) takes about 45 minutes, whilst Wednesday's flight via Marudi takes about an hour and ten minutes. At the time of writing, the fare is RM72 each way.
By foot, Long Lellang is a four to six day trek from Bario, or a one day trek from Long Sait, from where other transport is available. For more about these options, see the later section on trekking around the area.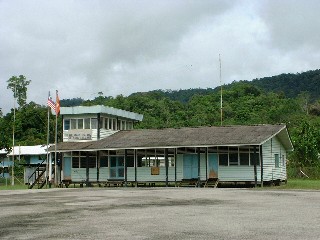 One additional option for getting away from Long Lellang is a two hour journey by longboat down towards the logging road, from where a car can transport you the rest of the way. This isn't an option for getting into the village in the first place, as a longboat needs to be arranged in the village. Neither is it an easy option as the boat will cost a couple of hundred ringgit, and the car two or three times that again, but if you are desperate, the option is there. This is also the route used for bringing much of the cargo and fuel into the village.
There is a logging road which terminates at the northern end of the runway, but it is disused, overgrown, and many of the bridges and parts of the roadway have collapsed. The last vehicle to use it was in May, 2002. There are rumours that the logging company will clear it again at some point, as they have promised to the community, but when that might happen is anybody's guess.
Where can I stay in Long Lellang?
There are four possibilities for staying in Long Lellang. All are lodges, as there is unfortunately no option for staying in the longhouse, which only has two families living there. You can expect to pay at least RM25 per night, but this should include breakfast, lunch and dinner. However, the Kelabits are humble people and it may be difficult to get an exact price. Err on the side of generosity should you not be given a fixed fee for your stay.
You should also be prepared for there to be nobody at your intended destination. Due to the infrequent flights, the owners of the lodges may disappear for a week at a time.
Key to map

| | |
| --- | --- |
| 1 | Exit to former longhouse and Long Sabai |
| 2 | Logging Road |
| 3 | Runway |
| 4 | Terminal building and control tower |
| 5 | Balang Matan's lodge |
| 6 | Shop |
| 7 | Shop |
| 8 | Balang Maput's lodge |
| 9 | Church |
| 10 | Longhouse |
| 11 | Old school building (now school canteen and boarding rooms) |
| 12 | Lese Niar's lodge |
| 13 | School building |
| 14 | Shop |
| 15 | Houses |
| 16 | Padi fields |
| 17 | Exit to church on hill, Long Main and Long Sait |
| 18 | Peterus Raja's lodge |
Balang Matan's lodge

Three rooms, double mattress in each room. Generator until 11pm, can be extended on request. Meals included.

Balang Maput's lodge

Five rooms, with an option to rent the whole house. Meals included.

Lese Niar's lodge

Four rooms of two single beds, one room with two double mattresses plus spare mattresses. Washing machine. Groups of 10-12 preferred. Generator when required, with battery for TV and radio at other times.

Peterus Raja's lodge

Nobody available during visit, any details gratefully received.
What can I do in and around Long Lellang?
The diagram below (schematic, rather than geographic) shows some of the walks available from Long Lellang. The times are for a reasonably fit person, acclimitised to walking in the jungle.
Church on hill (not on map)
This is visible from several points in the village, and affords a good view. It is an easy, but steep, walk which should take no more than ten minutes to get to the top. Walk past the padi fields (point 16 on map 1), then turn right at the end of them and follow the path up the hill. After a few metres it forks, take the path on the right (the path on the left leads to Long Main) and walk up the hill.
Long Lellang to Long Sait
This is a good day's walk, so you will need to stay in Long Sait for one night, and either walk back, or arrange to get out another way. It is not a walk to be underestimated; you need to be reasonably fit, pack light, and make an early start.
The first hour of the walk is relatively flat, with a well-defined path. At the end of it is the Penan village of Long Main. Some of the guides live there, so you may be invited in for a coffee and a short break before you continue the walk. After another half an hour is the smaller village of Long Kepang, the last village you will pass through before reaching Long Sait. After Long Kepang the path gets slightly harder, with more hills and in some places less distinct paths. You will have to walk across logs to cross streams, and for an hour or so the route follows a river, crossing it several times. If it has been raining recently, the water level could be above your knees. If it has been raining hard, then the guides may suggest you do not start the walk, as the river may be too high to cross safely.
Once you are past the river, there are still two more hills to go. In some places here the path is narrow and will slip under your weight (well, it did under my weight anyway). Walk with care and try to notice the views when you are stopping for breath.
You will get leeches during the walk (the morning after I arrived in Long Sait, I counted fifteen bites), so bring some insect repellant!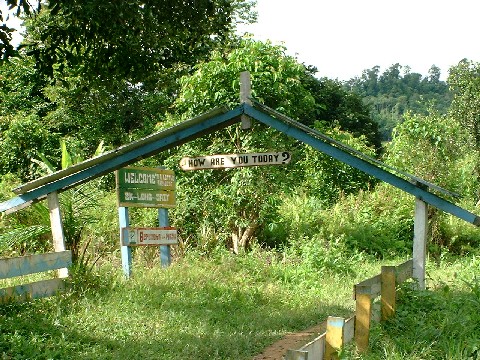 From Long Sait there are a couple of options (apart from simply walking back). The one I took, which did not work entirely as expected, was to take a longboat to Long Sit, a two hour journey through some spectacular jungle scenery. Once in Long Sit, I had been hoping to get a car to Long San, and a plane from Long San to Marudi. However, the car to Long San costs about RM200, and the plane only flies on Monday and Friday, whereas I'd arrived on a Tuesday. To charter a car all the way back to Miri will cost RM600 for the seven hour journey, all but the last hour of which is on unsurfaced, and in some places quite treacherous, logging roads. If you are lucky (I was), you might be able to find someone that is planning to go down to Miri anyway and get a ride for much less, but do not plan on it.
Long Sit itself isn't worth of much description. It is a Kenyah village on the end of the logging road which serves as a trading post for the villages upriver. It definitely has a bit of a "frontier town" feel to it.
Merigong Gorge
There is an impressive waterfall at this gorge, but access is difficult. There is no footpath, so it needs to be approached by river from Long Lellang. Before it was possible to get flights into the village, and cargo from other villages, locals would take their longboat along the river, then spend a couple of hours hauling it, and its contents, up or down the waterfall before continuing their journey. However, the river journey is treacherous, and few longboat pilots are able to navigate there. If you do find one, you need to pay for three guides in the boat and a day's worth of fuel (in total a minimum of RM300). Even then, you will only get one or two people in the boat.
Site of the old longhouse
The current site of Long Lellang is relatively new, it moved here when the site of the airport was chosen. About a hour and a half's walk away is the site the village used to occupy.
Long Lellang to Bario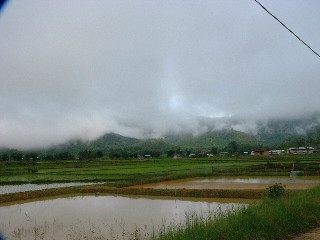 Bario is the focal point of the Kelabit Highlands. It is where the head of the Kelabits, the Pamancha, lives, and has become a draw for tourists over recent years. Having said that, it is still a beautiful place, and well worth a visit if you have not been there before. It does include such conveniences as a row of shops, several lodges and canteens, and guides willing to show you some of the many interesting sights around.
There are two routes to Bario from Long Lellang. One is through the village of Pa'Tik, and the other crosses the Tamabu range of mountains between the two places. The latter walk is slightly shorter, but the terrain is more arduous. Either way, the first day's walk is to the Penan village of Long Sabai, where you will spend the first night. After that, you either head for Pa'Tik, or a shelter where you will spend the next night. If you choose the route across the Tamabu range, then you will cross that on day three and get to the deserted village of Pa'Berang. If it is dry, the walk from Pa'Berang on the next day is a relatively easy half day on flat terrain. If it is wet, the going is slightly tougher as much of the walk will be wading through mud.
From Bario, there are now two flights daily to Miri.
Regatta
From November 12th until November 14th, 2003, a regatta is to be held in Long Lellang. The organisers are hoping to attract alot of people to this, and if it is successful, it may become an annual event.
Staying in Penan villages
Along some of the routes, you may want or need to stay for a night or two in a Penan village. The Penans are increasingly savvy to this, and you should not expect to get away with a night of accomodation for a bag of sugar or Milo. Expect to pay in the region of RM25 per night (some charge considerably more) to stay with a family, and as this is the case, do not fill your backpack with too many provisions. Most of the villages have some method of getting supplies in.
Paying for guides
All the local guides expect to be paid in the region of RM65 per day for their work, and for everything outside the village's immediate vicinity you will need one.
Acknowledgements
In addition to those mentioned in the introduction, I'd like to acknowledge Balang Maput, with whom I stayed for several days; Freddie Abun, for I believe he drew the original version of the map that I based my diagram of walks around the area on (it is posted on the noticeboard outside the church); Valentine Abun for information and translating when Peterus wasn't around.